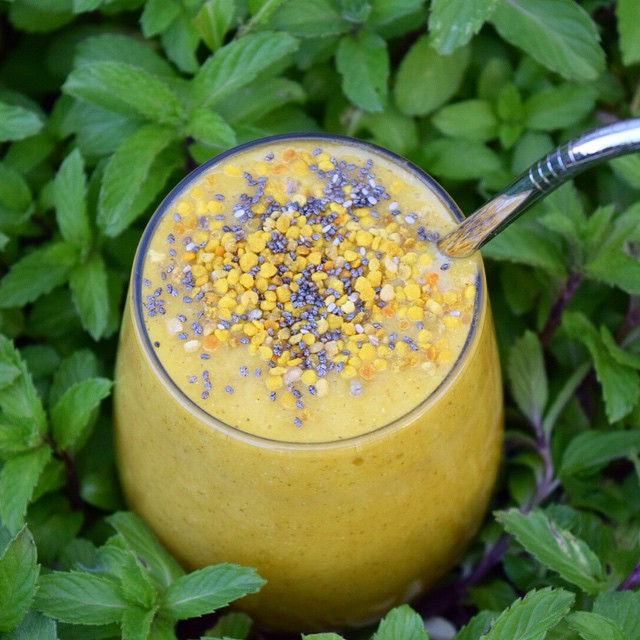 I am not a smoothie kind of girl. It may shock you to hear it from a Health Coach, but I prefer to chew my food and drink my liquids.
In my culture, we sit down at every meal and make it a ritual. It is a social thing, a time for ourselves or to connect with other human beings. We don't drive, work, phone, text, read or watch TV while eating. Besides distraction interferes with digestion. When you practice mindful eating, you feel satisfied, satiated and you digest well. For optimal nutrient absorption, foods are always best eaten in their whole form and well-chewed, so they can be processed by your digestive enzymes.
I only use my
Vitamix
to make a berry smoothie to sneak other liquid or powdered supplements such as
chlorella
and
spirulina
powders (since they taste gross alone!) and to get my daily dose of high-antioxidant berries, especially when they are hard to find in the winter. I typically buy them organic to avoid pesticides and frozen since they are more economical. I also like to make occasional treats like a
tropical smoothie
on a hot summer day or a decadent superfoods
hot cocoa
in the winter.
Unless you are always on the go, skip meals (which is a terrible "no" for blood sugar and weight loss) or don't eat enough vegetables & fruit, there is no need for a daily smoothie. If you do, be careful if you like to mix fruit & veggies together, they are not the best food combination, and can often lead to bloating, gas and discomfort if your digestion is sensitive. Fruit should be eaten alone or they will ferment in your digestive tract and you can imagine the rest. When sweetening your smoothie, stick to fresh or dried fruit.
I just saved you $400 from buying a fancy blender or from grabbing a daily smoothie to work that you can now invest in coaching sessions ;)
For more information, please
consult
with me.
Alexandra Le Ny
Certified Health Coach & Yoga Instructor
925 858 2133
"Empowering individuals to reclaim their health and happiness and regain balance in all areas of their life."
http://alexandraleny.com/health-coaching/Home.html
https://www.facebook.com/healthcoachingalexandraleny
https://instagram.com/alexandraleny/
http://www.pinterest.com/alexandraleny/