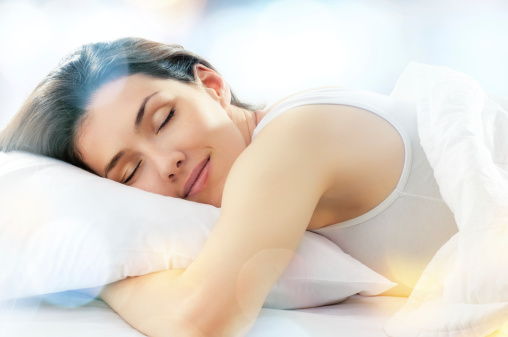 Having trouble sleeping?
Try these proven bedtime rituals for a night that will leave you feeling refreshed and recharged. Your day will be so much brighter!
· wait 2-3 hours since your last meal. Eat a light meal and choose complex carbs like brown rice, quinoa or millet over protein, since they have sleep-promoting qualities. Avoid sugar and alcohol.
· shut down all electronic devices 1 hour before bed as their blue light mimics the effect of the sun and hinders your melatonin production which is crucial for sleep.
· make your bedroom a sanctuary: remove the clutter (especially under the bed), change sheets weekly, only keep items you like, no electronics and fitness appliances and no work!
· have a ritual: give yourself a massage with warm
sesame
or
coconut
oil, take a warm bath with
lavender essential oil
and
epsom salts
, read a fiction book, listen to soft music, light a candle, etc. whatever helps you wind down.
· sip a
bedtime tea
infused with herbs like chamomile, lavender, hops, valeriana, or passionflower.
· wear comfortable pajamas, preferably in a breathing material like cotton.
· air your bedroom and keep the temperature cool.
· make your room completely dark and quiet. Wear an
eye mask
, use
ear plugs
, and a
white noise machine
if needed.
· remove all electronic devices to avoid EMFs (no cell phone in bed, switch it to airplane mode) and turn off your wifi.
· say your gratitudes and write down any action items on a pad that you keep near your bed to empty your mind.
· meditate for a few minutes: sit or lie down, relaxing every part of your body. Focus on your breath and body sensations. Inhale to the count of 4 and exhale to the count of 6. Repeat until you fall asleep.
Sleep is crucial for many body functions: it supports memory, increases longevity, reduces stress and heart problems, and enhances metabolism.
Remember that we carry the energy of our day into the night, so try to keep your day peaceful. You can also use natural sleeping aids such as a
magnesium
,
omega 3
or
vitamin D
supplement,
herbs
,
homeopathy
,
aromatherapy
or
Back flowers
if all else fails.
If you still cannot sleep despite all these tips, there may be a medical issue underlying that needs your attention. I often find in my practice that when the guts are damaged, so is the brain. Healing your guts will go a long way towards improving the quality of your sleep.
For more information, please
consult
with me.
Alexandra Le Ny
Certified Health Coach & Yoga Instructor
925 858 2133
"Empowering individuals to reclaim their health and happiness and regain balance in all areas of their life."
http://alexandraleny.com
Facebook
Instagram
Pinterest
Yelp